It is estimated that about 5.07 billion people in the world use the internet today. From getting their daily news to shopping for groceries to doing business, everything is done in cyberspace. It's no wonder countries globally are investing billions of dollars in cybersecurity. According to a study by McKinsey, damages wrought by cybersecurity attacks have the potential to rise up to $10.5 trillion by 2025.
Based on McKinsey's estimates, the market for organizational investment in cybersecurity operations is expected to reach up to $2 trillion this year. In this environment, where securing our online spaces becomes more imperative than ever, it is very important to know what individuals, companies, and governments can expect in terms of cybersecurity trends for the upcoming year.
In this article, we discuss a few key trends that are expected to dominate the cybersecurity landscape in 2023. Let's dive right in.
IoT And Cloud Protection Will Be On The Governmental Radar
Studies show that by 2025, the world will store upwards of 200 zettabytes of data on the cloud. This, in turn, speaks volumes about the role that IoT devices will have in our world in 2023 and beyond. Everything from emails to home security to business document management will operate through IoT connectivity and be stored on the cloud.
Countries like the US are planning to roll out a first-of-its-kind labeling system that informs IoT device users about the risks of using these devices. More countries are expected to follow suit.
Governments and companies worldwide will be expected to pay closer attention to how they regulate IoT and cloud infrastructure.
Remote Work Cybersecurity Takes Priority As Companies Continue To Work From Home
Both fully-remote and hybrid working will continue to rule the roost for companies in 2023. Endpoint device management, password protection, and cloud safety will all become priorities for companies.
More businesses are also investing in developing and adopting stronger anti-virus, anti-malware, anti-ransomware and anti-spyware programs. Companies will need to invest in business continuity planning by creating measures for network monitoring, data backup, and quick operations restoration.
AI-Based Cybersecurity Controls Will Become More Widely Adopted – Especially For Geopolitical Security
One of AI's pivotal uses is in security. However, for some time, AI has been plagued with the prejudices of its human makers. Racial and gender-based biases have affected the technology's security analysis accuracy. However, these issues are starting to be ironed out.
In 2023, more organizations will start adopting AI in some capacity for detecting and eliminating threats. In particular, geopolitical security will be closely monitored using AI. Governments and other public security agencies will choose to receive real-time analysis and predictive inputs about geopolitics through AI technology.
This is mainly because of the rise in crimes pertaining to Operational Technology, which forms the backbone of a country's utilities and infrastructure management.
Rapid Digitalization Will Lead To Increased Instances Of Hacking In Growing Economies
Countries like India, with growing economies and increasing rates of digitalization, are expected to experience higher rates of hacking in 2023. According to research, India's digital payments market is expected to reach a whopping $10 trillion by 2026. Propelling this growth is greater development in the fields of IoT, CBDC, and 5G.
The case is similar in countries in Africa. The African e-economy is expected to grow to a staggering $180 billion by 2025. Unfortunately, reports indicate that 9 out of 10 businesses in Africa do not have adequate cyber protection practices in place. In such an environment, cybersecurity threats may become rampant, needing immediate response by companies and governments globally, and not just here at home.
The Cryptocurrency Market Will See A Continued Rise In The Number Of Scams
Cybersecurity issues will manifest in 2023 as cryptocurrency scams and losses. The year 2022 experienced major crypto upheaval in the form of Ronin Network, Wormhole Bridge, and Beanstalk Farm scams, amongst others.
The year 2023 is expected to see a rise in phishing scams, crypto investment scams, crypto platform upgrade scams, fake wallet exchanges, SIM swap scams, and more. Due to the crypto and blockchain market being outside institutional control, much recourse isn't available for victims. Companies will need to take adequate precautions when engaging with cryptocurrency and blockchains.
The Exploitation Of The Metaverse Is Expected To Be Rampant
Forecasts show that the metaverse may be worth $50.37 billion by 2026 and more platforms are likely to be developed in 2023. Abuse, exploitation, and violence against metaverse personas are expected to rise in 2023. This violence is expected to range from theft of virtual currencies to racial or homophobic insults to sexual assault against users' avatars.
The absence of stringent user moderation and metaverse policing and protection will require individuals and companies to find ways to protect both people and property on the metaverse. Additionally, the fact that the metaverse does not fall within the purview of global data protection laws like the GDPR, PDPA, Data Protection Act, and more, will make it increasingly difficult to protect digital assets and personas.
Everyone will need to get ahead of the curve and be prepared for the metaverse revolution with robust cybersecurity practices.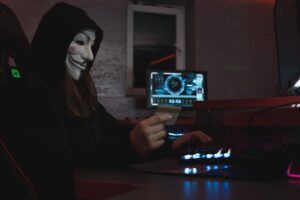 Cybercriminals Are Already Sidestepping New-Age Cybersecurity Technology
Cybersecurity technologies like Zero Trust, Endpoint Detection and Response (EDR), and Multi-factor Authentication (MFA) have been buzzwords for quite a while now. While these technologies have immense potential, there are still many implementation issues to iron out.
However, companies may not have adequate time to do this alone, as cybercriminals are getting smarter, more creative, and more responsive toward cybersecurity technologies. Cases of criminals circumventing these security technologies and protocols have already been recorded.
Additionally, reports indicate that ransomware gangs are dissolving and re-forming rapidly, despite the arrests of some of their members. These new groups combine diverse knowledge, making them more adept at cybercrimes.
Companies will need to partner with the right technology providers with the expertise to deal with cyber criminals.
Conclusion
With the right managed cybersecurity solutions, you can ensure your hardware, software, and cloud architecture are safe. You can safeguard your customers, protect your business interests and set yourself apart from competitors through responsiveness.
Data Safe Group LLC is a premier cybersecurity services provider based in Morris County, with over 25 years of experience in business cybersecurity and data protection. Our state-of-the-art, globally-benchmarked cybersecurity practices, protocols, and technologies are geared to help you navigate through the choppy waters of 2023. Contact us today.